San Antonio trailer deaths live updates: Driver Homero Zamorano in court as photos show migrant truck at border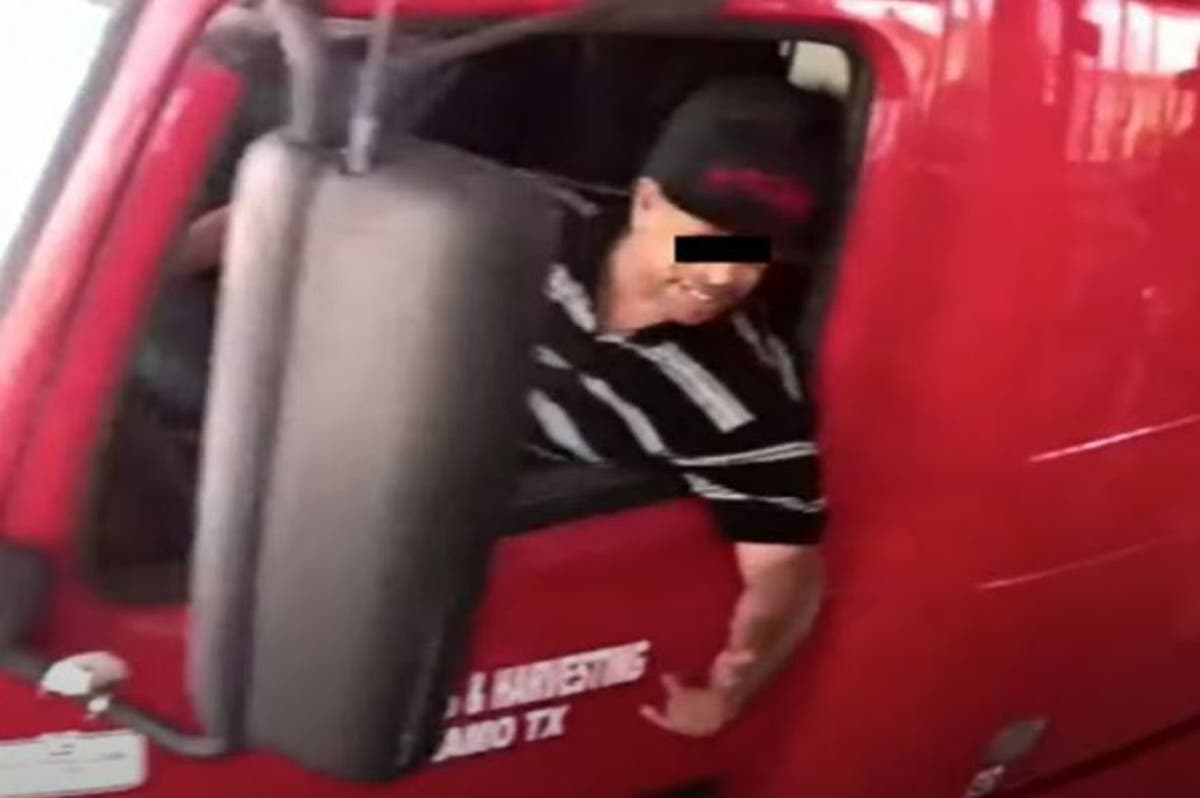 At least 46 bodies found in trailer, San Antonio officials say
Four people, including alleged truck driver Homero Zamorano Jr, have been charged in connection to the San Antonio migrant deaths, the Justice Department announced on Wednesday.
The 45-year-old is charged with one count of alien smuggling resulting in death. He is from Brownsville but based in Pasadena, Texas, according to officials. He could face up to life in prison or the death penalty.
Three others were charged as well, including Christian Martinez, who allegedly discussed the smuggling plan in a call with Mr Zamorano, and Mexican nationals Juan Claudio and Juan Francisco D'Luna Mendez, who were found because their address was used to register the tractor-trailer that smuggled the migrants.
At least 53 people were discovered dead, "stacked" inside the truck's tractor-trailer near San Antonio, Texas, in what authorities believe may be the deadliest human-trafficking incident in modern US history.
President Joe Biden called the "tragic loss of life" in Texas "horrifying and heartbreaking" while San Antonio's mayor Ron Nirenberg called it a "horrific human tragedy".
1656626717
Photos show alleged truck smuggling conspirator Christian Martinez
Newly released booking photos from the Anderson County Sheriff's Office show Christian Martinez, one of four people who have been arrested in connection to the San Antonio migrant smuggling deaths.
Mr Martinez 28, was arrested on Tuesday, and officials say phone records indicate he was in contact with alleged driver Mr Zamorano about the smuggling scheme.
Josh Marcus30 June 2022 23:05
1656625596
Homero Zamorano was on meth when arrested, Texas congressman says
Homero Zamorano, the man charged with driving the truck in which 53 migrants died, was high on methamphetamine when he was arrested, according to US Representative Henry Cuellar, whose district includes San Antonio.
The Texas Democrat told Reuters he was briefed on the information by Customs and Border Patrol, who he said added that the migrants were likely picked in the truck up at a US-based "stash house" before being abandoned in San Antonio.
That would match with accounts from Mr Zamorano's family, who say he struggled with drug use and resorted to criminality to fund his habit.
Josh Marcus30 June 2022 22:46
1656624039
Failed AC unit identified as cause of migrant deaths: court documents
Charging documents for the four individuals tied to Monday's San Antonio smuggling disaster are revealing new details about what led to the deaths of 53 migrants seeking to enter the US.
A failed air condition unit in the tractor-trailer carrying the group caused them to die, according to sealed court documents charging Christian Martinez, one of the conspirators, KHOU reports.
Mr Martinez, who has been charged with conspiracy to transport undocumented migrants leading to death, was allegedly in contact with suspected driver Homero Zamorano.
First responders who discovered the truck said the more than 60 migrants inside were hot to the touch, and that there didn't appear to be any A/C system working in the trailer. Survivors inside were too weak to exit the trailer on their own two feet.
"They were still in there, awaiting help, when we arrived … meaning just being too weak — weakened state — to actually get out and help themselves," San Antonio fire chief Charles Hood said on Monday.
Josh Marcus30 June 2022 22:20
1656622552
How heat and humidity are a perilous mix in immigrant deaths
The combination of heat and humidity would have quickly created life-threatening conditions inside the packed, un-airconditioned tractor-trailer where dozens of immigrants were found dead, an expert said.
Although it's unclear how long the people had been inside the trailer, it likely would only take a hour or less for temperatures to climb as high as 125 degrees (51 Celsius) or hotter, said Jennifer Vanos, an assistant professor in climate and health at Arizona State University who has studied child deaths in cars.
The tractor-trailer likely would have been hot – perhaps 105-110 degrees – when people got in because the outdoor heat and humidity already were high, Ms Vanos said.
Once inside, their bodies would have created even more heat and humidity, and because there was no air flow, their sweat could not evaporate to cool their bodies and they would dehydrate quickly. The immigrants did not have water.
"All those things together are going to drive a quicker heat death," Ms Vanos said.
Josh Marcus30 June 2022 21:55
1656621039
Driver of doomed San Antonio truck smuggling migrants struggled with drug use, family say
"His life is really separate from ours," Zamarano's brother-in-law told The Texas Tribune. "I have no idea how he got involved in that. He would get lost for years and would come around occasionally. He basically raised himself."
Mr Zamorano, 45, was arrested on Wednesday and charged with undocumented migrant smuggling resulting in death. He will appear in federal court on Thursday afternoon, and could face life in prison or the death penalty.
According to prosecutors, the 45-year-old from Brownsville, Texas, matches surveillance images of the driver of the abandoned trailer filled with migrants in San Antonio, which passed through a Border Patrol checkpoint in Laredo on Monday without being inspected.
Josh Marcus30 June 2022 21:30
1656619918
Accused driver of deadly trailer makes first court appearance
Homero Zamorano, who is accused of driving the semi-truck in which 53 migrants died, made his first court appearance today in a federal courtroom in San Antonio.
The 45-year-old is charged with migrant smuggling resulting in death, and could face life in prison or a death sentence.
Josh Marcus30 June 2022 21:11
1656617632
Family members describe arrested driver as 'in and out' of their lives
The sister of Homero Zamorano Jr, 45, who was arrested Wednesday and charged with involvement in alien smuggling resulting in death, says that her brother has been in and out of her life because of his struggles with drug abuse.
Tomasita Medina told the Los Angeles Times that her brother, the eldest of three siblings who were all raised in Brownsville, Texas, moved around a lot, going between East Texas, South Florida before he finally made the Houston area his home in recent years.
While living there, he reportedly worked as a handyman, a job he was able to hold down while his sister said he abused drugs and got caught up in the law.
"He's always had an issue, a problem with drugs," she told the Times. "He's always in and out of our lives because of that."
Johanna Chisholm30 June 2022 20:33
1656613372
Texas police chasing smugglers in deadly car accidents has been an ongoing issue
In 2019, police in Texas chased a car carrying a dozen smugglers around southern Texas in the town of Robstown, about 20 miles west of Corpus Christi. The chase resulted in a deadly car crash, that killed six men after the driver of the SUV seemed to lose control and crash into a ditch next to a dirt road in a field.
In that deadly accident, Gov Greg Abbott offered no statement on the men's deaths, all of whom came up from either Honduras, Guatemala, El Salvador or Mexico, the New York Times reported at the time. All of them were young men, in their early 20s or late teens.
At the time, the Times reported on how vehicle chases or single-car accidents involving smuggled migrants was steadily on the rise, noting how in South Texas alone, more than 40 undocumented men, women and children had been killed between 2012 and 2019.
Johanna Chisholm30 June 2022 19:22
1656610596
Four dead and three injured after alleged migrant smuggler crashed into truck in Texas
Four people were killed and three others are in critical condition following a car crash that involved an individual allegedly smuggling migrants in Texas.
Texan law enforcement authorities were reportedly chasing a vehicle they suspected was carrying migrants. The vehicle attempted to evade law enforcement and ran into a semi-truck.
"The driver suspected of human smuggling evaded law enforcement and crashed into a commercial vehicle," the Texas DPS tweeted.
The vehicle the alleged human smuggler was driving appears to be a white Jeep.
My colleague Graig Graziosi has more in this developing news story:
Johanna Chisholm30 June 2022 18:36
1656607372
Texas funeral home owner volunteers to help deceased migrants reunite with families
Greg Compean is no stranger to helping out and volunteering his services when tragedy strikes, a trait that's especially admirable given his specific line of work: a funeral home owner.
As the Bexar County Medical Examiner's office in San Antonio begins the tedious task of identifying the 40 men and 13 women who died as a result of the nation's deadliest human smuggling incident, there still remains the hurdle of preparing those people's remains and getting them safely back to their families in their countries miles away.
"When you're in the profession we're in, you don't pick and choose who you serve. We serve everyone, especially with something so tragic like this," Gregory Compean, president of Compean Funeral Home told ABC 13 News. Mr Compean has offered up his services of preparing the bodies to be sent back to their countries of origin, a "marathon"-like process that he says he is all too familiar with, having volunteered himself for a similar tragedy back in 2003 when 19 migrants died in the back of a hot trailer in texas.
"This is only the beginning, I can tell you this. This is going to be a marathon. This is not going to be a sprint," Mr Compean told Click 2 Houston. "Anytime human remains are shipped out of the country, those remains have to be properly embalmed within all the rules and regulations in the state of Texas to be accepted by that other country."
Mr Compean is humble when saying that volunteering is the least he could provide during this time of need, but also notes that he feels a strong personal connection to stories like the one coming out of San Antonio this week.
"My grandparents were not born in this country, and once upon a time envisioned for a better life and opportunity, and as we sit here today as beneficiaries of that sacrifice from my grandparents, it's the right thing to do," Mr Compean said.
Johanna Chisholm30 June 2022 17:42